Hunting offers in the platform from outfitters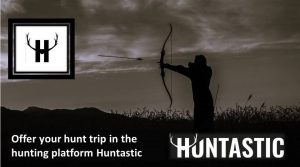 What condition to fulfil and cooperate with hunting trips?
How to offer the trips on the platform? In the Huntastic platform, everyone can offer hunting trips. Hunting associations, professional pheasantries, game reserves, companies as well as hunting guides, so-called "outfitters"
The offer must be interesting, correct, free of any hidden fees, and must fulfil the ethics of game keeping which we bear in mind so much.
We don´t search any cooperation with "shot-guaranteed" offers in a small space. The hunter is to win the experience. Each hunt requires at least a bit of demand, effort and subsequent reward for the effort.
We will beg lad to cooperate with outfitters offering hunting trips in both a beautiful landscape and first-rate service during the hunt. The polite outfitters who also keep traditions and respect the game keeping ethics.
I am interested in the cooperation. How to offer the hunts in the platform? What to do, what am i expected to do?
f you have something interesting to offer, contact us on info@huntasticzech.cz or call 774 614 541. You always deal with Ing. Ladislav Štěpánek, the owner of the platform.
We fix the date, I arrive at you and make documents of either the hunt or the hunting area.
As I see the setting personally, I can aptly express the description of the hunting area and subsequent hunts.
You are expected to co-operate maximally while presenting information. We fill in the form about the profile of the hunting area, hunting offers, sign the co-operation contract which defines your rights and obligations. This permanent contract can be cancelled anytime without giving any reason.
What do I gain while co-operating with the hunting platform Huntastic?
The profile of your hunting area will be made according to unified design and standards of the platform. For your better imagination, have a look at ready-made profiles of other hunting areas to see how the your one will look like.
This profile is interconnected to your particular offers. The hunting trip offers are again designed as one.
To see the hunting trip offers, click here
All information you want to share with your potential clients will be mentioned in the offer.
We take responsibility for all propagation of the offers as well as the coordination between you and the hunter. We are available in case of general questions. You are eased of this burden.
We actively deal with your offer advertisement. We pay the advertising space, deal with organic and paid access in social networks, communicate with hunters. We also take part in local and international exhibitions in which we represent Your hunting trip offers.
Therefore, you don´t have to solve any advertising, offer distribution among hunters both in our country and abroad.
The platform also contains information about hunted game. Each species is given its profile and article. You find out legal hunting season, ideal hunting season, description of hunting technics for individual game, game calling and so on. All is written in a readable and comprehensible way. No encyclopaedia.
At the same time, we are trying to be active and make various hunting competitions, events and all connected to game keeping. Registered users are automatically given several benefits. As first, they are given the hottest offers, discounts at verified partners and others.
This sounds good, but nothing is for free. What does Huntastic profit from?
All co-operation with the platform is for free. Your profile and hunting offers are designed and offered in the advertising space for free.
If NOONE RESERVES YOUR HUNT, YOU DO NOT PAY FOR ANYTHING AT ALL.
You pay only for realised the hunt trip a symbolical commission.
The co-operation for you, as an outfitter, is very advantageous. In fact, you don´t have to spend time on advertising, pay for the advertising and thanks to this, you can focus on enhancing your service.
Your offers are put into the platform and get directly to hunters all the world. In this way, and without any effort, you increase the demand of your hunts.
The platform disposes of several key tools such as comparing offers according to price, various filters, categories and mainly booking system. It works as an online hunting platform with a booking system.
It works on the same principles as bookin.com for accommodation. Hunters appreciate detailed and smart organising of the hunting offers.
If you are interested, feel free to contact us on info@huntasticzech.cz or call 774 614 541
Best regards
Ing. Ladislav Štěpánek
Executive director Huntastic LLC.